See on Scoop.it – Corrupt elected officials, unqualified coroner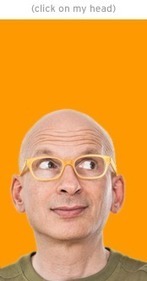 and it's not me." That's the way every single conflict begins. Of course it does, because if it didn't, it wouldn't be a conflict, would it? So, given that the other person is sure you're wrong, what are you going…
Shirley Sanservino's insight:
Seth, the one who has the largest stick wins. Just beat them into submission, right?
No? Well then just get the documentation for your side of the conflict and force feed it to them for breakfast – that should work….
In the office, just begin a whisper, gossip campaign about the really wrong party in this conflict, that will work.
When all else fails just keep quiet and hope the subject is moot and will never come up again.
See on sethgodin.typepad.com